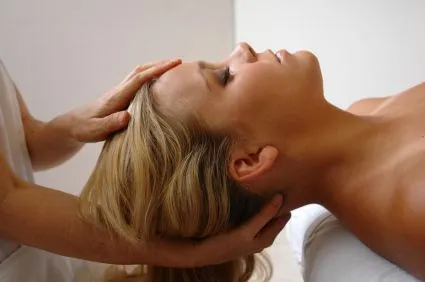 Chiropractic care is now considered a "front line" approach for Headache sufferers. Research done at prestigous institutions such as Duke Medical Center and at the National Institutes of Health have verified the safety and effectiveness of Chiropactic treatment for patients with headaches. In fact one study showed that Chiropractic care offered benefits for heachache sufferers for up to three months after the study had concluded!
The cause of headaches. In order to understand how chiropractic care can be of benefit to headache sufferer, it is important to understand why headaches happen in the first place. Ninety-five percent of all headaches stem from tension in the neck. These are categorized as primary headaches, and include cluster, migraine, and tension headaches. Sometimes we call these headaches "cervicogenic". When the bones of your cervical spine are not moving correctly due to injury or poor posture the muscle tension and inflammation that develpos begins to irritate the delicate nerves of the neck. These nerves supply sensory impulses to head, neck and face. When this situation is present, heaches occur. Common chiropractic treatments like spinal manipulation, acupuncture, and deep tissue massage can help to alleviate that tension in the neck, and are therefore ideal for treating headache pain.
How spinal manipulation works. The process of spinal manipulation is exactly what it sounds like: the chiropractor manually adjusts your spine, with the intent of aligning your vertebrae. Spinal adjustments ease swelling and tension in between your discs, which in turn relieves your nerves of pressure and irritation. Believe it or not, the nerves in your spine communicate with your entire body by way of the central nervous system; that means they are responsible for pain in a number of different places. People who suffer from tension headaches and headaches that originate in the neck are especially responsive to spinal manipulation.
Overall health guidance. Chiropractors are trained to develop a multifaceted treatment plan that involves a holistic, total body approach to healing. As part of your long term wellness care, your practitioner will recommend additional therapies beyond spinal manipulation. These include advice on exercises, dietary supplements, herbal remedies, and vitamins that may improve the duration, frequency, and intensity of your headaches.
For even more information about how chiropractic care can help your headaches please check our blog!
If you suffer from headaches, then you owe it to yourself to explore the possibility of chiropractic care for the relief of your symptoms. You might be surprised to find that a chiropractor can do for your headaches what those bottles of pills couldn't do.